December 22, 2008
I'm Better than Santa!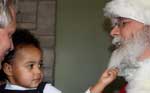 Maybe I shouldn't be taunting Santa around Christmas, but I don't think he reads my blog, so I'm probably OK. (But if he sends me a lump of coal or Christmas, I'll know why.)
Each weekend, my church holds an event called Adopt-A-Block, which is an outreach events to families in a poorer area nearby. Whenever I'm in town and available, I help out doing Magic, Balloons, and whatever else they need.
This week we had a visit from Santa.  Before things got started, I was in the back parking lot talking with Mr. Claus. One of the neighborhood kids saw us and came running out the door. Instead of running to Santa, he called my name and ran to give me a hug. That's right, he actually choose me over Santa Clause. I love my job!